Craniofacial Surgery - Delhi, India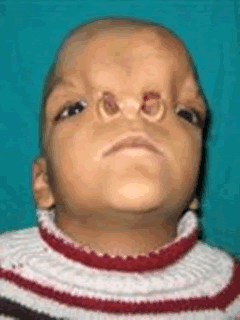 www.indosurgery.com is one of the very - very few services in India which offer low cost and high quality Craniofacial Surgery in India - a term referred to correction of deformity of skull (head), jaw face etc. This deformity could be by birth or caused by injury.
The defining and the most important factor in success to this surgery is the selection of the surgeon. Craniofacial Surgery is a super sub specialty in the field of plastic surgery. Not all plastic surgeons can perform it.
Costs depend on case to case basis.
Some Cranofacial Cases
In fact, craniofacial treatment involves equal participation of neurosurgery and plastic surgery apart from dental surgery and expert post-operative care
Before & After :

Definition:
Craniofacial refers to Head and Face. Craniofacial surgery focuses on the correction of deformities of the bones of the skull and face. Less than 30 years ago medicine offered little hope to patients with severe craniofacial deformities. Today, craniofacial surgery, undertaken by highly experienced teams, has profoundly changed the outlook for these patients and their families. That which was deemed impossible in the past is now a reality through advancements in medical technology and the skill of multidisciplinary professionals.
Craniofacial Surgery Advised To :
Abnormal shape of the head.

Shortened lower jaw bone.

Depressed cheek bones.

Forehead deformities.

Increased distance between the eyes.

Facial asymmetry among other things.
Some Technical Terminologies Of Deformities :
| | | |
| --- | --- | --- |
| Aperts Syndrome | Pfieffer Syndrome | Crouzens Syndrome |
| Freeman Sheldon Syndrome | Treachers Collins | Hemifacial Microsomia |
| Orbital Dystopia | Goldenher Syndrome | Craniofacial Clefts |
| Hypertelorysm | Secondary Deformity Of Cleft Lip & Palate | Beckwith-Wiederman Syndrome |
| Fibrodysplasia Of Face | Pierre Robin Complex | Syndromic Craniosynostosis |
| Craniofacial Tumours Fibrous Dysplasis And Neurofibromas | Post Traumatic Craniofacial Deformities | Craniomaxillofacial Prosthesis |
| Craniofacial Distraction Osteogenesis | | |
Surgeon's Profile :
Minimum : M.Ch. - Plastic Surgery + Specially Trained in craniofacial surgery + sufficiently experienced.
Corrective Surgery :
No two deformities can be the same hence each surgical procedure is unique in itself. The Cranio Facial Defects Surgery is mainly done by plastic surgeons especially trained for carnio - maxillo facial surgery and involves multi specialty inter disciplinary approach. Some patients may require more than one session of surgery to achieve strategic results. The timing of surgery depends upon the nature of the defect and condition of the patient.
What To Expect :
A good change in the overall appearance.
---
Health Care Tip :
Liposuction, Tummy Tuck, Breast Surgeries Are Safe And do not have any side effects.