Beware Of The Cosmetic Trap !!!
Have you been offered attractive 'spot discounts' ?

Does the clinic have qualified and skilled professionals to handle the delicate cosmetic / plastic surgery procedure ??

Have you been attracted by the razzle and dazzle of the 'BEAUTY CLINIC' ??? . . . . TIME TO PAUSE AND DO SOME SOUL SEARCHING.
Remember not all cosmetic procedures that go wrong are reversible, however some are reversible - but is it worth the trouble, time and money that the corrective procedure would require - THINK THRICE !!!
Well an educated and informed choice of right place and doctor should take care of the many avoidable fiascos. Read on . . . .
About 50% of the cases handled by cosmetic and plastic surgeons are corrective surgeries to correct the damage done by unqualified / improper qualified and / or untrained people who may or may not be surgeons. Avoid being lured to glossy advertisements advising you into going under the knife to add a bit of glamour in your life.
One of the models decided to utilize the 'spot discount' bargain and went under the knife to look and feel better & confident, little was known to the poor soul that the incompetent 'surgeon' would leave her physically disproportionate and grotesque - unfit for her profession - the result she had to go for a corrective surgery and ended up spending double the amount which she would have originally spent had she gone to a proper place let alone the days she was out of work and the financial loss thereon and the emotional trauma. This is not an isolated case but just an example.
This is a peculiar situation when the demand for looking and feeling better is common and high but either the patient is not fully aware of the facts or is lured by attractive discounts and low prices being offered by 'FAST BUCK MAKING BEAUTY SHOPS'. Alarmingly the number 'BEAUTY CLINICS' is much more than the number of qualified and trained cosmetic surgeons / plastic surgeons.
Some examples of damage are :
Puffed Lips.

No Eyebrows.

Abnormally Shaped Breasts.

Burnt Skin After Laser Treatment.

Disproportionate Body Contour.

Loose Abdominal Skin.

And Many More . . .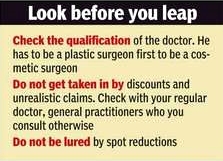 ---
Health Care Tip :
Liposuction, Tummy Tuck, Breast Surgeries Are Safe And do not have any side effects.